Chrsitina Lake is the jewel of the Kootenay Boundary area. The area also considered as a gateway to the South Okanagan Region to the west and the West Kootenay Region of Kootenay Rockies to the east.  We are a Trans-Canada Trail Community and a Kettle Valley Railway Community. We have the Columbia and Western Portion of the Kettle Valley Railway passing through our vistas and rivers. Christina Lake makes a wonderful peaceful rest stop for your week long vacation, or your weekend retreats away. Imagine after a long day of cycling, relaxing on a dock and cooling off in our clear lake at the Sunflower Inn Bed & Breakfast.
Nature observation is wonderful here . . . grouse drumming, birds nesting and ducks and geese swimming. Pine siskens, western tanagers, stellar jays and bald eagles live in harmony here. The Kokanee fish spawn in late August – early September in our creeks – our bears love to feast on them. When our lake spawners spawn in late November and early December the bald eagles fly in for feeding. With ice formation on the lake the human and bird Ice Fishers come out.
We also have tennis courts, pickle ball courts, lawnbowling, basketball one-on-one court, skatepark, and a ball diamond.  There is a mini golf course next to our Lakeside General Store.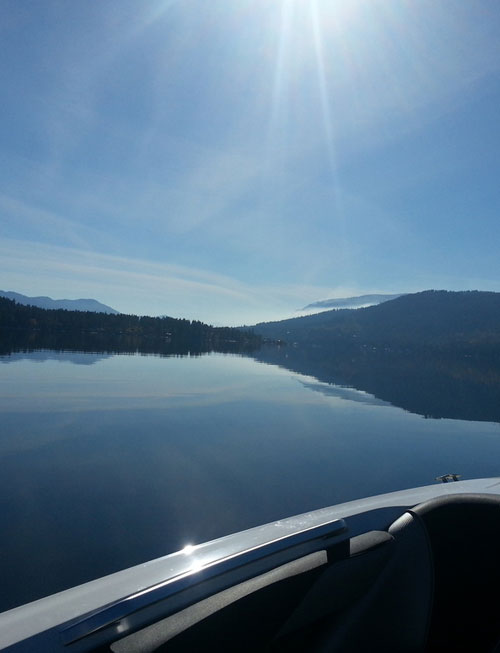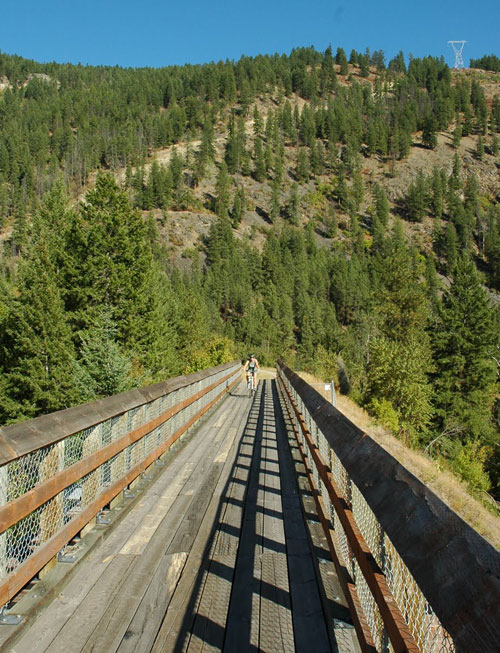 Mountains:
We are in the bitterroot region and in the Christina Range. We host such peaks as Gladstone, Faith, Hope and Charity in our north region. Santa Rosa is in our south east. Mt. St. Thomas is in the east.
Rainbow Rock and the Sentinel are rock formations at Cascade Gorge, one of our Jewels to view. The photographer Courtney Milne has been here and to our "Sacred Site" of Indian pictographs.
Gladstone is quite a climb for hikers. Mt. Glory is between us and Rossland. Glory can have a snowy peak until late summer. Wildflowers abound in season.
Rock Candy Mine just north of Grand Forks has fluorite and quartz formation in greens and violets. Tours are offered.
Trails
We have trails that range from easy to difficult. Christina Creek Trail is an easy trail; Badger, Deerpoint and Dewdney are moderate trails; Green Tunnel and West Lake are difficult trails. Our trails connect us to Rossland on the Dewdney Trail and the Old Cascade Highway. We connect to Grand Forks to the west on the Trans-Canada Trail (also known as the Kettle Valley Railway), and to Castlegar to the northeast through the Bulldog Tunnel on the Columbia and Western portion of the Kettle Valley Railway Trail. The KVR from Christina Lake to Grand Forks is excellent for hiking, horseback riding, bike riding, cross-country skiing and snowshoeing.